Enclean Technology Limited in Beijing, China is focusing on district heating and is committed on creating a greener future by providing more efficient, environmental-friendly and comfortable heating services.
An outdated system needs innovation
The systems that Enclean Technology were using were equipped with two water pumps with a combined energy usage of up to 1.37 kW. One of the water pumps was used for operation and the other was used as a standby in case of a failure. This system, while functional, had a large footprint that took up a lot of valuable floorspace. It also had a fairly loud operation and the excessive energy use was starting to become a large percentage of the TCO.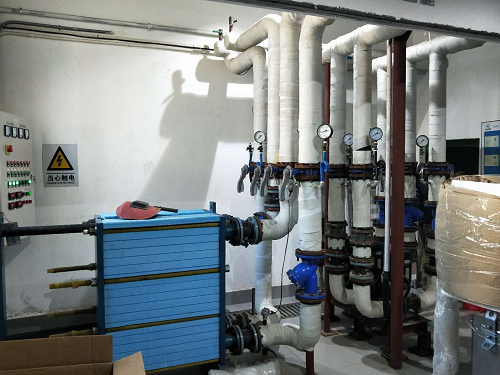 Before replacement
SWEP delivers efficiency and savings
Enclean Technology contacted SWEP to help identify and solve the challenges of the system. SWEP's engineers recommended using a SWEP ETS model HGG120-500-T15-1 to solve the problems. This would considerably reduce the footprint of the equipment and lower the operating costs while improving overall energy efficiency.
Saving more than resources

SWEP systems are predicted to help Enclean Technology save at least ¥20000 of electricity consumption throughout every heating season. But the greatest benefit that Enclean has gained from this replacement is the fact that natural gas consumption has also been significantly reduced. Natural gas usually accounts for 90% of a heating company's operating costs, and any reduction will have a positive effect on the business's bottom line. That's not to mention that natural gas is a fossil fuel and is not as environmentally-friendly as other options.

This really brings SWEP's purpose of creating more from less by challenging efficiency in our daily lives.

After replacement

Henrik Rietz, Sales Manager Systems at SWEP, and Mr. Zhu Yunhao, Executive General Manager of Enclean Technology Limited