Using available energy for productive use
ORC (Organic Rankine Cycle) technology made possible by SWEP brazed plate heat exchangers is being used in Sweden to transform waste heat into renewable electricity. This high efficiency and low maintenance way to produce sustainable electricity is being adopted by district heating systems around the world.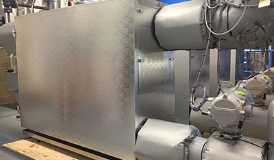 Waste to Energy - SWEP transfer 51MW at Lyngby Kraftvarmeværk A/S
Vestforbraending is one of the largest waste management companies in Northern Europe. The company owns and operates a combined heat and power producing waste-to-energy plant with an annual capacity of 600,000 tonnes of waste. All the heat produced is utilized as the plant is interconnected with the regional district heating system in Copenhagen.
Airflux- significant cost savings and lowered CO2 emissions through efficient heat-recovery solutions
Airflux, based in Lille, France, is one of the leading providers of air compressors for the French market.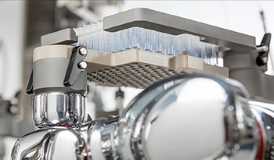 Optimizing freeze drying solutions for the Pharma Industry
For more than half a century, IMA Life Freeze Drying Solutions has been the gold standard when it comes to providing the benchmark for freeze drying solutions to the pharmaceutical and biotech industries.
China State Shipbuilding Corporation Limited gains efficient and stable power for vessel transportation
China is the most populous coastal country in the world. Vessels are necessary technical equipment for the operation of the marine industry. The reliability of vessel's power unit has attracted intensive attention from the whole industry chain.
How Volvo Car Gent is driving sustainability
SWEP's compact and high capacity brazed plate heat exchangers (BPHEs) have allowed Volvo Car Gent to substantially reduce its use of fossil fuels for heating purposes. CO2 emissions have been decreased by 15,000 tons per year, a net decrease of more than 40 percent.
UMASS Albert Sherman Center
When the University of Massachusetts Medical School unveiled its $400-million, state-of-the-art Albert Sherman Center in early 2013 on its Worcester, MA, campus, it was said that it would allow the school to "enter a new era of biomedical research, medical education and campus collaboration." Collaboration would also play a prominent role in how the 11-story, 512,000-square-foot building would be cooled during the warm and humid summers that are quite common locally.
Making Montpelier more manageable
Vermont capital's District Energy system has been a resounding success with the aid of SWEP BPHEs.
Tele2 Arena
Powerful technology for a modern venue.
The awarded-winning Tele2 Arena in the Swedish capital of Stockholm can easily host both major concerts and all kinds of sports competitions. Powerful brazed plate heat exchangers (BPHEs) from SWEP allow for a swift and reliable laying of good-quality ice for winter sports events.
Heat exchangers bring 34% higher capacity to new energy transfer station
More power and less maintenance combined with reliable operation. The new energy transfer station in Danish Glostrup have found a cost-effective solution with two of SWEP's B649 brazed plate heat exchangers.
Pioneer power station with BPHE LNG vaporizers
One of the world's first power stations with BPHE LNG vaporizers has been installed at a gold mine in Perth, Australia. The company behind the project, EVOL LNG, is a leading provider of LNG for transport, power generation and other industrial applications. It provides a trucked natural gas solution to fuel off-grid power stations and deliver a solution with less capital cost than natural gas pipelines and with lower fuel costs than diesel.
Reliable BPHE for sensitive research
After a public tender, the Catholic University of Leuven (KU Leuven) in Belgium awarded Cofely Axima (GDF SUEZ) parts of the contract to build a new chemical laboratory.