Cooling sheet metal laser cutting equipment with SWEP All-Stainless brazed plate heat exchangers
SWEP's robust All-Stainless brazed plate heat exchangers helped provide optimized cooling for sheet metal laser cutting equipment where deionized water is the main coolant. The copper-free chiller system was imperative to maintain the integrity of non-conductive coolants.
Cooling sheet metal laser cutting equipment
The major challenge in the early stages of this specific laser cutting case was leaking evaporators due to the corrosion of the copper brazed heat exchangers that were provided by previous suppliers. By stepping in and providing all-stainless heat exchangers instead, SWEP helped Glen Dimplex Thermal Solutions (GDTS) to overcome this major obstacle.
Cooling sheet metal laser cutting equipment is the main application in this case, so GDTS formed a partnership with an OEM laser cutting integrator to provide a closed-loop cooling solution for their products utilizing refrigeration and hydronics as the primary means of heat rejection from their process.
Precise temperature control through cooling is critical in maintaining the integrity and accuracy of the cutting beam. This ensures that the laser can hold extremely tight tolerances during the cutting operation. During this process, a substantial amount of waste heat is generated by the laser resonator, optics and electronics, and must be rejected in a controlled manner. The primary means of heat rejection is facilitated through deionized water that travels through the cooling plates of the laser and to the chiller, which in turn is cooled by the brazed plate heat exchanger, which subsequently is cooled by the refrigeration circuit. The use of deionized water as the main coolant is critical because this prevents short-circuiting of critical electrical and electronic components in the unlikely event of an internal leak.
Required to meet stringent footprint limitations
As the chiller is an integral part of the suite of equipment utilized by the end user for their laser cutting operation, the reliability of the chiller is key in ensuring quality cuts and preventing costly downtime. The chiller is also required to meet stringent footprint limitations to improve the marketability of the OEM's turnkey solution by requiring minimal floor space from the end user. Both these key factors ultimately led to the implementation of brazed plate heat exchangers in the chillers for this application – brazed plate heat exchangers are extremely compact with high surface area to volume ratios enabling efficient heat transfer while requiring minimal space and allowing a reduction in chiller volume and footprint. Although copper is primarily used as the brazed material for brazed plate heat exchangers, stainless-steel brazed material is also widely used as an alternative and this is especially critical since it provides an imperviousness against the highly copper-corrosive deionized water. Compared to other types of all stainless-steel heat exchangers, brazed plate heat exchangers provide the same robustness with a lower total cost of ownership which is key in cost-sensitive OEM applications like this.

Screenshot from 3-D CAD model of the Laser Chiller showing a
Q80ASx60 SWEP brazed plate heat exchanger.
Why SWEP´s brazed plate heat exchanger technology?
A large portion of chillers produced at GDTS's Kalamazoo, MI facility had already used brazed plate heat exchangers in the past from a different manufacturer but lacked options and support. This led to oversizing brazed plate heat exchangers and adding significant cost to many OEM applications. The business opportunity with the OEM partner emerged in 2016, around the time SWEP initially approached GDTS to form a partnership for being their primary brazed plate heat exchanger supplier. At that time, GDTS was lacking an optimized solution in the heat exchanger design category to successfully displace the OEM chiller supplier. As GDTS had little to no experience with SWEP, they were very impressed by how SWEP's sales and engineeringteam put their best foot forward by providing a wide range of options (various types of brazing materials with a variety of executions), in-depth selection guidance (through SWEP's selection software SSP) and technical support which results in a very attractive value proposition.
As mentioned before, precise temperature control is key in maintaining the laser's accuracy. The chiller achieved this by implementing hot gas bypass, where hot refrigerant discharged by the compressor is fed in a controlled manner directly into the evaporator of the circuit, which is the brazed plate heat exchanger in this case. This allows any excess cooling in the evaporator to be trimmed in a precise fashion, ensuring a tight tolerance on the coolant temperature. Conventionally, hot gas merges with cold refrigerant downstream of the throttling device (such as thermostatic expansion valve) before entering the evaporator, requiring additional plumbing and enough length for the two streams to homogenously mix. This is achieved by SWEP's unique Q-pipe technology which enables the introduction of the hot gas into the distribution port without affecting the suction liquid distribution. SWEP worked closely with GDTS to implement a method of integrating this hot gas stream directly into the brazed plate heat exchanger, further reducing plumbing components and length while providing equivalent functionality.

Laser chiller with Air filters removed
Our All-Stainless range helps provide an efficient solution to a challenge
A key issue faced by GDTS with chillers from previous suppliers was leaking evaporators. Due to cost limitations, the previous chiller manufacturers had begun to use standard copper brazed brazed plate heat exchangers in lieu of all stainless-steel brazed plate heat exchangers. The copper brazed brazed plate heat exchangers could not withstand the corrosion of the deionized water. After prolonged exposure, these brazed plate heat exchangers would form pin-hole leaks between the refrigerant and water channels, leading to cross-contamination and very costly repairs on both chiller and laser equipment, along with severe downtime for the customers.
This issue was noted by GDTS as an important pain point by the customers and relayed to SWEP. The conductivity level of the deionized water was thoroughly evaluated by SWEP from a material compatibility standpoint, leading to the decision of requiring all stainless-steel brazed plate heat exchangers. SWEP All-Stainless products are developed for systems demanding 100% stainless steel components, and for high-temperature applications. They can be used with fluids that are corrosive to copper, e.g. ammonia, or for sensitive applications where copper and nickel contamination must be avoided. SWEP's unique process technology enables a compact product with minimal material usage relative to its mechanical strength. By adding the All-Stainless range, SWEP has extended its product offering and can further challenge other competing technologies. In this particular case, SWEP managed to provide a package with the required material that was still viable from a total cost of ownership perspective.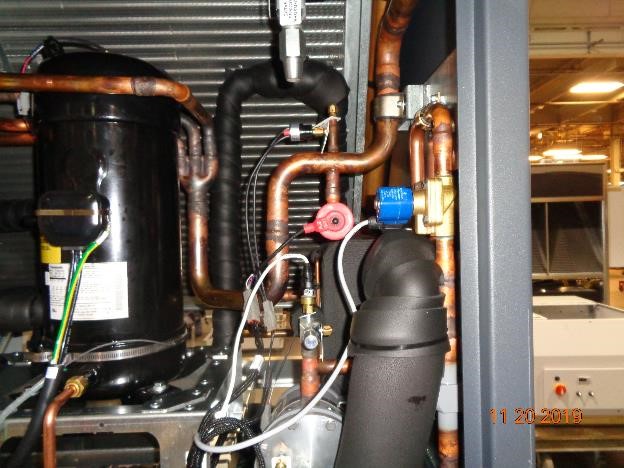 Actual installation of a SWEP Q80ASx60 brazed plate heat exchanger (insulated)

Appreciate the time and dedication
As of today, there are several hundred SWEP brazed plate heat exchangers in chillers designed for this OEM laser cutting integrator. They are being used across the United States by various machine shops and fabricators ranging from large three-shift, 24/7 operations to small businesses. All brazed plate heat exchangers in the field operate very closely to designed conditions without any issues. Leaking brazed plate heat exchangers, cross-contamination and excessive downtime have become a thing of the past with SWEP's brazed plate heat exchangers. Because of this, the relationship between GDTS and the OEM laser cutting integrator has grown stronger as they've proven themselves to be a very dependable supplier. SWEP's technical team has proven to be meticulous and accurate in brazed plate heat exchangerselection with regards to the application's requirements while still being mindful of providing cost-effective solutions for OEM projects.
''We truly appreciate the time and dedication from the SWEP team over the years, especially in this project. By supplying their specialized range of All-Stainless brazed plate heat exchangers, they helped us tackle an ongoing problem by providing a sustainable solution moving forward.'' Sean Weera, Lead Engineer – R&D at Glen Dimplex.
SWEP and Glen Dimplex look forward to continuing their collaboration for years to come in multiple applications where brazed plate heat exchangers can provide highly efficient solutions.
_________________________________________________________________
About Glen Dimplex
Glen Dimplex Thermal Solutions (GDTS) manufactures air- and water-cooled chillers. GDTS is a member of The Glen Dimplex Group of Ireland. The Glen Dimplex Group holds significant global market positions in domestic appliances, cooling, ventilation, and renewable energy solutions.
In more than half a century of international operations, Glen Dimplex has built a solid global business reputation winning customers trust with its brands, products, and people. With its dynamic portfolio of leading brands and low carbon technologies, the Glen Dimplex Group is strategically positioned to meet the market challenges of tomorrow.